This #ThoughtfulThursday Sue shares the full Serenity Prayer …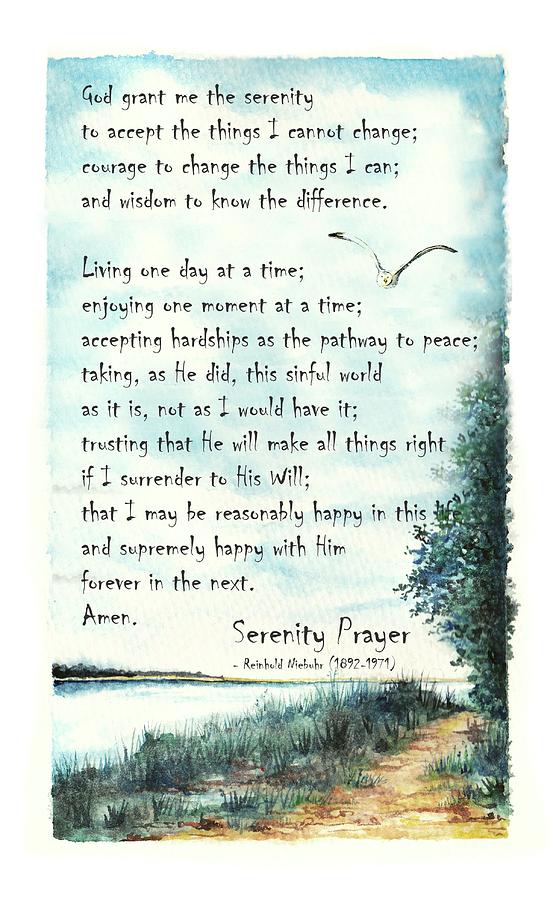 The Serenity Prayer is very familiar to many people, and has touched the lives of untold numbers. It is attributed to an American Reformed theologian Reinhold Neibur (1892-1971), who was a commentator on politics and public affairs. The exact date and origin of the prayer is shrouded in overlays of history, even mystery, and also whether it was Neibur's original thought. If you want to delve into this just Google his name for a fascinating exploration!
However the poem usually stops after the first three lines. How many people have read on, or even know that there is more to this prayer, and why it is called The Serenity Prayer. Is it that it reflects a peace that is undisturbed by outward circumstances, a deep and living peace, a peace that can guide your steps and help you to overcome hardship? This the peace and serenity that only a wise and loving God can provide through knowing Him more each day and finding His purpose for our lives.
Here follows the FULL prayer;
God grant me the serenity
To accept the things I cannot change 
Courage to change the things I can, 
And the wisdom to know the difference. 

Living one day at a time, 
Enjoying one moment at a time, 
Accepting hardships as the pathway to peace. 
Taking, as He did this sinful world as it is 
Not as I would have it. 

Trusting that He will make all things right 
If I surrender to His will. 
That I may be reasonably happy in this life 
And supremely happy with Him forever in the next. 
Amen   

The prayer became widely known in the 1950's when it was adopted by Alcoholics Anonymous.